I was driving home along River Road last night from Audubon Park when I saw Boogie and Wish have dinner in front of the Cowbell while their owners ate at the outdoor table. I have seen many horses along the levee but this was unusual even for New Orleans so I stopped to eat, converse and take pictures. It was my first visit to the self-proclaimed, locally world famous Cowbell. I spoke a while with Boogie's owner who told me tales of surviving in New Orleans after Katrina with Boogie as her only source of transportation. She still rides him many places but she can no longer take him down Canal to go shopping and leave him tied to a handy light post like she did back then.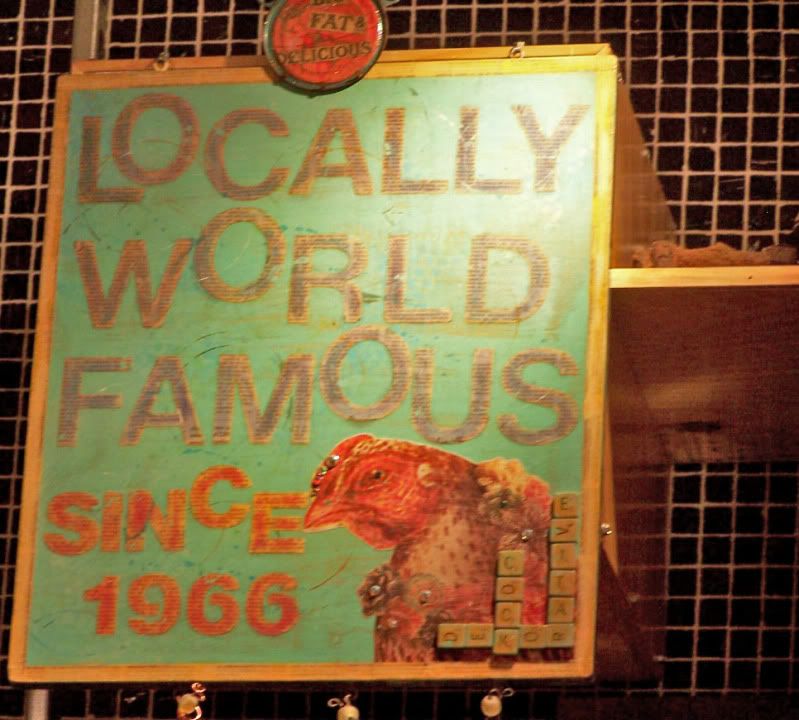 I quickly realized that contrary to it's name and appearance, I was under dressed for the occasion in the t-shirt and capris that I had worn to go birding that afternoon. The diners were a mixed lot ranging from college students, tourists and middle age couples out for a Saturday night date. The wait staff were friendly and wore an eclectic mix of aprons. The restraunt was crowded and all the single or double tables were taken. My waitress seated me at a long bench with a group of college students who were pleasant but preoccupied with some serious beer tasting. They had brought 4 six packs of locally produced beers and were critiquing each one. A business woman was seated at the bar drinking a red wine with her bar-b-qued rib eye steak while a couple behind me seemed to be celebrating with a bottle of champagne.
The menu was small but featured soups, salads hamburgers and steaks. I chose the special of the day; a brie with granny smith apple slices and ham, grilled cheese sandwich with a cup of cream of tomato with basil soup. The food when it arrived was delicious. I will definitely be returning to the Cowbell in the future. If you are ever at the corner of Oak and River Road, I recommend you stop for lunch or dinner. I can't guarantee that Boogie or Wish will be there though.
RW